About 90 minutes from Osaka. We offer free shuttle service from JR Wakayama Station to our inn.





Must-go sightseeing sites in Wakayama Prefecture
Kimii-dera Temple
This temple, which is renowned for its early blooming cherry trees, is the second temple on the West pilgrimage route. The temple is named after three wells, "Kichijyomizu", "Youryumizu" and "Shojomizu". The temple was founded by a Chinese monk, Iko-shonin, in 770 (the First Year of Hoki era). The main hall houses Taho-to (pagoda) contributed to the temple by the 10th feudal lord Harutomi.
15 minutes by car from our inn.

Wakayama Castle
The history of Wakayama Castle started when Shogun Hedeyoshi Toyotomi, who subjugated Kishu(roughly what is now Wakayama) in 1581 (the 13th year of Tensho era), assigned his younger brother , Hidenaga, to its foundation. The constructor was Takatora Todo, who was then a renowned castle builder. Chlorite schist is used in abundance for the stone wall of Wakayama Castle. The panoramic view of the streets of Wakayama City and Kino-kawa River idyllically flowing can be seen from the top of the castle tower.
15 minutes by cat from our inn.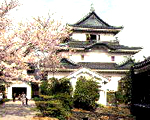 Kuroshio Market (Kuroshio Ichiba)
Seafood directly sent from all over the world as well as fresh local seafood can be purchased at low prices at this market.
Seafood purchased from the market may be barbecued at our terrace. It's very popular.
The Tuna Dismantle Show, where just landed tuna fish are dismantled on site, is also a popular attraction.
20 minutes by car from our inn.

Porto Europe
A theme park based on inspiration from European towns, which has arrays of reconstructions of an old Spanish castle, a French public hall, an Italian harbor town, and so on.
with its experience-oriented attractions, a Ferris wheel which commands a view of the Pacific Ocean and so on, it is suitable from adults to children.
20 minutes by car from our inn.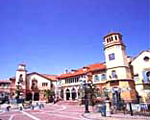 Koyasan Shingon Buddhism Sohonsan Konogobuji
This Zen Buddhist seminary of Shingon Esoteric Buddhism was founded in the 9th century at the top of Koya Mountain, 800m above the sea, by Kobo Daishi who brought Shingon Esoteric Buddhism to Japan from China for the first time.
Stay at our inn before/ after visiting the temple.
120minutes by car from our inn.